Description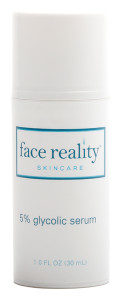 Use:
A 5% glycolic alphahydroxy acid gel that is great for exfoliating dead skin cells on the surface of the skin. Suited best for non sensitive noninflamed acneic skin types.
Ingredients:
Purifed Water, High Purity Glycolic Acid, Glycerin, Witch Hazel Distillate, Hydroxyethylcellulose
Purchase of this item requires supervision by Face Reality Acne Specialist at Skin and Acne Specialist LLC.  
Contact us to become a client.