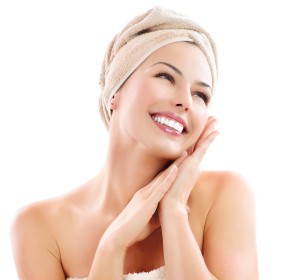 How do you be acne safe with your morning routine? Here are some tips to stay clear everyday! I hope these help you like they do me to maintain clear, beautiful acne free skin!  Every day we apply ten or more skin care products before we even walk out the door. I am going to give you some ideas to stay acne free from an esthetician acne specialist with over 15 years of personal acne experience. Let's begin our day!
Acne Safe Shower Morning Ritual
1. Wash your hair with an Acne Safe Shampoo and rinse!  Check out my www.pintrest.com/skinsuite/ for safe choices.
2. Condition your hair with an Acne Safe Hair Conditioner, see my Pintrest link.
3. Shave. Men or Women who are shaving in acne prone areas, use an acne approved Shave Gel such as Schick Hydragel or see my Pintrest  for more choices.
4. Rinse the acne safe conditioner out of hair. Since these products run down the body it is important to make sure they are truly safe for your acne sensitive skin.
5. Cleanse the face body with an Acne safe face and body wash such as Sensitive Skin Cleansing Gel or Mandelic Face and Body Wash. These are my go to products to maintain clear and beautiful acne free skin! There are more acne safe choices at my Pintrest. (I love the convenience of a 2 in 1!)
6. Exfoliate the back with a back scrubber. My top picks are cloth with the ability to be washed in the washer at least once a week. See my Pintrest for ideas!
7. Rinse!
8. Exit and Towel off! Make sure all towels, wash cloths, and hand towels are all washed in Dye Free, scent free Laundry Detergents. Absolutely use no fabric softener or dryer sheets, they contain waxy, oily substances and dyes that are highly comedogenic!
9. Use an Acne Safer product or lotion for the body! Derma E lotions, Jojoba oil, Mineral oil, etc are all good choices for acne prone skin! If you do not use an acne safe one, it is imperative that you absolutely do not touch, areas of the face or any acne prone areas without washing your hands first! Stay Clear of those areas!
10. Wash Hands!
11. Get Dressed!
12. Your Hair Products, gel, mousse or hairspray all contribute to acne! Make sure they are acne safe and check out my recommended lists on Pintrest! Hairspray users! The best way to apply is spraying your hands first then applying to areas needed. If you cannot do that use a paper plate or towel to hide acne prone areas from the spray! If you get product on to the face or acne prone areas, cleanse the skin with acne safe face cleanser!
13. Wash Hands!
14. Apply an Acne Safe Sunscreen! My go to product for face and body is Face Reality Daily or Face Reality Broad Spectrum Sunscreen! They are fabulous! The Face Reality Daily Sunscreen is perfect for darker skin types or oily skin!
So there you have it folks an acne safe face and body morning routine! Coming Soon is,  Acne Proof your Morning Facial Skincare Routine! I will share what this Acne Specialist uses for products to keep skin clear!
Rachel G., Skin and Acne Specialist
Rachel's Skin Suite www.rachelsskinsuite.net