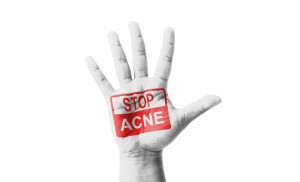 Comedogenic, Acnegenic, and Allergenic, Oh My!
Comedogenic
ˌkämədōˈjenik/
adjective
adjective: comedogenic
tending to cause blackheads by blocking the pores of the skin.

(Definition is complements of Google)
There is more to acne than just the buzz word "comedogenic". Comedogenic is a generic term used by most people to describe a skin care ingredient that clogs pores over time. The term is getting used like "Kleenex" to describe an issue with acne prone skin. Most do not know that true comedogenicity takes 3 to 6 months to produce acne in your pores. It takes time to form. It is not an overnight process and that is why I want to talk about two other terms that you may not have heard of when it comes to the process of acne.
Acnegenic
[ak″ne-jen´ik]
producing acne. (Definition is complements of The Free Dictionary by Farlex)
Acnegenic is when an ingredient applied to the skin or a supplement consumed, has an acne reaction on the skin. Most of the time the outside of the pore opening or follicle gets inflamed and irritated by a substance. This closes the outside opening of the pore, hence causing acne quickly. Other ways to produce acne quickly is through friction from picking, headbands rubbing on acne prone skin, or football pads on the shoulders of players, these can also do this. Getting back to acnegenic, sometimes substances are applied to the skin or they can be consumed in the case of medications. Other acne exacerbating foods are Kelp or iodine-rich foods, such as sports drinks, these can cause acneiform lesions on the body, even on areas not typically prone to acne such as the arms, forearms, or thighs.
Allergenic
[al-er-jen-ik]
1.causing allergic sensitization. (Definition is complements of Dictionary.com)
An allergenic response can cause acneiform lesions on the body. This can be due to medication exposure (topical or oral) and also topical application of skin care products. For example in skin care, if you think about every ingredient shipped to a skin care manufacturer, each one has to be preserved in a substance or it will spoil. I highly doubt each ingredient listed on your cosmetic includes the preservative it was shipped in before being processed. Not all preservatives are bad, but this leaves gaps in your ingredient deck on your skin care label.
Please just keep in mind when you apply something or consume something (such as food or medication), and acne forms quickly, there are many culprits that can be to blame. Below are a list of common drugs involved in acneiform eruptions.
Steroids (topical-systemic)
Testosterone (Bodybuilding acne)
Vitamins B1, B6, B12, D
Antidepressants (lithium-amineptine) 2-4
Antiepileptics (mood stabilizer) valproic acid 5
Tetracyclines
Isonicotinic acid
Puva
Phenol Barbiturates
Thyroid preparation
Disulfiram
Chloroquine
Azathioprine 6
Halogens (bromides-iodides)
Inhibitors of EFGR (tarceva) 7
Iodides.
Kelp acne (diet "exotic" products, tablets)
Lugol's solution
Drugs for asthma and colds
Hypnotics
Sedatives
(The list is complements of Francesco Bruno Dermatologist, Acneiform eruptions – the letter "I" – Kelp Acne)
I am trying to give you a concise way to think about how acneiform lesions can form quickly, and how true acne forms much slower. I happen to believe if you think a product is causing acneiform lesions, it may well be.  My goal is to demystify acne so I can help others as I learn new things myself. It really takes time to clear true acne and if you need help with acne, find an acne specialist. Not every Esthetician, or Skin Specialist is trained in dealing with acneic skin. Please find one that is truly passionate about it.
Rachel Geschke
Skin and Acne Specialist LLC
Face Reality Acne Specialist
References
Francesco Bruno Dermatologist, Acneiform eruptions – the letter "I" – Kelp Acne, European Journal of Acne and Related Diseases, Volume 1,n. 1 2010
http://patient.info/health/drug-allergy-leaflet
WILLIAM E. MORRIS and SHIH CHAO KWAN, Use of the rabbit ear model in evaluating  comedogenic potential of cosmetic ingredients, Revlon Research Center, October 1981
The Free Dictionary by Farlex
www.dictionary.com
www.Google.com